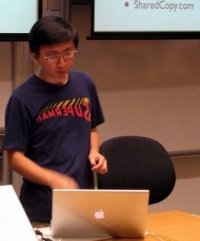 loves programming and has been doing that professionally for over 10 years - moving from C, Perl, Java to Ruby & Javascript. Choon Keat is curious about everything and is always thinking of ways to improve [his] life with better design, better software. Sometimes, he even blogs about these things.
Choon Keat is practical, delivers simple solution and executes iteratively. He has been practicing that on a startup he has founded, SharedCopy.
Professional summary
Choon Keat finds himself involved in startups most of the time. But he did once venture into a mid-size J2EE shop to find out what enterprise software was about.
His hands-on experience range from (server-side) administrating Linux boxes, writing web apps & integration with SMSC, MMSC & Jabber, to (client-side) writing Eclipse plugins, Javascript, Flash ActionScript, to programming on various other devices like phones and the TV.
His recent work revolves around email, Ruby, Rails and a lot of Javascript.
Software passion
Choon Keat loves open source. He gives back by submitting patches to the Rails project and releasing his own software as open source: hquery, oauth4r, poormans-trends, krjs, web_sg_form_builder, hpricot_forms, rssfwd.
Occasionally, the need to share overflows and he turns them into talks for geek audience: Sharing session for PHP User Group, OAuth for Singapore Ruby Brigade, and Rails boot camp 1 and Rails boot camp 2.
Choon Keat understands that experiments are a large part of learning. Hence he'll occasionally deploy experiments like Real [Twitter] Friends, Rss Paper for iPhone, Timezone UI & Translation UI just to see how well they work.
What he's working on now
Trying to convince others to employ a image server to handle file uploads, instead of simply reaching for the most fashionable gem.
Contact
e-mail: contactme@choonkeat.com
twitter: @choonkeat